A tough fight for the workers to control the trade unions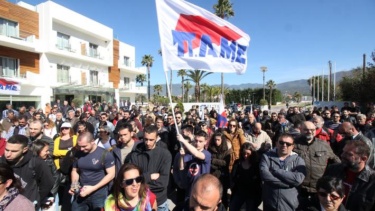 In the recent period in Greece,  a fierce battle is being waged by sectoral federations, labour centres, trade unions and trade unionists that have responded to the call of the All-workers' Militant Front (PAME) against the plans of the trade union mafia which controls the General Confederation of Greek Workers(GSEE).
GSEE, which was founded 100 years ago with the historic contribution of communists and is the confederation of workers in the country's private sector has been controlled for years now by the mafia-like machinations of the trade union groupings of PASKE (aligned to the social-democratic party of PASOK), DAKE (which is aligned to the right-wing party ND) and the Vasilopoulos group (aligned to the governmental social-democratic party of SYRIZA).
The aim of these forces was to hold this year as well a "Congress"-parody with fake "delegates", who are also employers,  on 14-17 of March. For this reason they chose to hold the Congress in a tourist resort, in the city of Kalamata in a luxurious hotel chosen by this trade union mafia and paid for by the workers. As PAME revealed, a significant number of delegates, at least 53, should not have taken part in the Congress, due to illegitimate and irregular procedures.
However, their plans were ruined by sectoral federations, labour centres, trade unions and trade unionists and workers who responded to the call of PAME with mass mobilizations outside the hotel for 3 days. They fought tirelessly to block these plans, with slogans such as "Trade unions of the workers, not of the employers". Dozens of congress delegates elected from class oriented trade unions that rally in PAME  were present at the protests. It should be noted that at the previous congress of GSEE, DAS the trade union grouping supported by the class-oriented trade unions received the second highest number of votes (22% of the delegates) and gained 10 representatives on the 45 member National Board of GSEE.
Then the trade union mafia, as their plans had failed, sought help from the bourgeois state, the forces of repression and the bourgeois parties. In the relevant letters that it sent to  all the parties that supported the anti-worker measures of recent years, the leadership of GSEE requested " an immediate meeting with you to protect the democratic institutions and to safeguard the unimpeded application of fundamental democratic rights."
On 21/3 the trade union mafia of the leadership of GSEE met with the  Deputy Minister for the Citizen Protection, of the SYRIZA government, Katerina Papakosta (who it should be noted used to be an MP of the right-wing ND party) and discussed "the issue of taking security measures in order to protect future meetings of GSEE" according to the press statement of the Deputy Minister.
 In these conditions, trade union organizations are calling on the workers to attend a mass demonstration on the Pedio Areos in front of the offices of GSEE on Thursday 28/3, 6.00 pm, As the call of trade unions stresses: " the mass participation in Thursday's demonstration will express the decision of the workers to continue their struggle against the decay manifested by those who present themselves as "representatives of the working class" and who in their offices every day plan the disarming of the struggles, the neutralization of the trade unions so that their friends, the employers can be free to make more profit, smashing the rights of the workers (...)"
The trade unions that are organizing the demonstration emphasis that: " We denounce the trade union mafia of the majority of GSEE that is excelling itself in terms of mafia-like machinations and activities, with the aim of imposing the wishes of the employers, with illegitimate delegates and hired thugs inside the trade unions and their functioning. Trade unions of the workers, not of the employers!"