At the side of the Palestinian people, against Israeli aggressiveness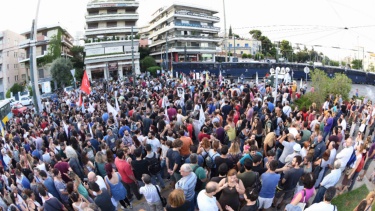 A message of condemnation against the escalating aggression of the state of Israel and of solidarity with the Palestinian people on the evening of the 19/7 by workers, youth and mass organizations that had a mass presence at the protest organized by PAME at the Israeli embassy in Athens.
The messages of support for the Palestinian people, the demand that the murderous activity of the state of Israel cease were the dominant themes on the banners and placards of PAME, EEDYE, OGE the Peace Committees, EEDDA, the federations and trade unions which participated in the mobilization, denouncing imperialism and declaring that "the only hope is the struggle of the peoples".
The demonstrators united their voices with slogans such as "Murderers out of Palestine". "Out with the NATO, the bases must be closed, no participation in the interventions", "the one enemy is imperialism", and stated that they would be vigilant about any new attacks against the Palestinian people.
A delegation of the CC of the KKE and its PB attended the mobilization.
20.07.2018