"Greek and immigrant workers against capitalism that gives rise to crises-wars-refugees"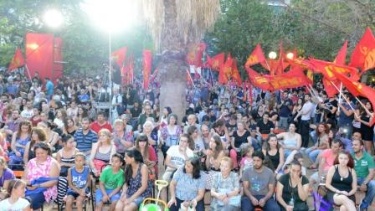 This slogan set the tone for this year's weekend of events for Greek and immigrant workers, which was organized by the Attica Party Organization of the KKE in Fix Park, Patissia, on 24-25 of June.
For two days, Greeks , refugees and immigrants not only discusses the causes of their problems but also the solution, the way that is to be found in the political proposal of the KKE, which was presented by Louiza Razou, member of the PB of the CC of the KKE, in the event's central speech.
Young children skillfully presented songs and dances from their homelands and were warmly applauded.
The immigrant communities had their own kiosks, while there was a  children's nursery where kids from different countries drew pictures around the same table. The experiences of those who have been uprooted from their homes was stunningly portrayed by theatrical performance that with images and real testimonies expressed the fact that "no one chooses to become a refugee", which was its title. At the end of this performance, the audience united their voices in shouting the slogan "No submission to imperialism, the peoples are the only superpower."
27.06.2016