SEIZURE OF GREEK TANKERS BY IRAN
KKE: The "flag bearer" policy of the US-NATO plans poses great risks to the people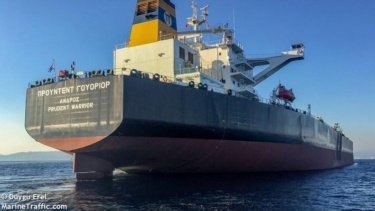 On Friday 27/5, two large Greek-flagged tankers travelling in the Persian Gulf were seized by the "Revolutionary Guard" of Iran.
From the first moment, the seizure of the two ships was interpreted as retaliation against Greece, which on 25 May, rushing to respond to the US request, seized the Iranian oil transported by "LANA", a Russian-flagged ship having a 19-member crew of Russian nationality, as it sailed off Karystos.
In a statement on the seizure of the two Greek tankers by the Iranian Armed Forces, the Press Office of the CC of the KKE notes that "The raid on and seizure of two Greek tankers by the Iranian Armed Forces is an extremely serious and dangerous development, particularly since —apparently— it took place as 'retaliation' for the recent seizure of Iranian oil  by the Greek authorities, following US instructions.
The 'flag bearer' policy of the US-NATO plans pursued by the Greek government on all fronts, including the sanctions against Iran, exposes the country and the Greek people to great risks, as evidenced by the fact of the seizure of the Greek ships.
The government must immediately ensure the release and safe return of the crews of both ships."
31.05.2022