KKE and KNE members threw red paint at US-NATO armoured vehicles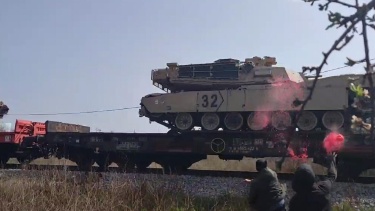 On Tuesday 29/3, the Organizations of the KKE and the KNE in the region of Thrace threw red paint at the armoured vehicles of the US-NATO war machine that are being transported through the region for awar rehearsal on the NATO border with Russia.
For weeks now, the port of Alexandroupolis has become a key hub for the deployment of US-NATO troops in Eastern Europe. The armoured and other combat vehicles of the US Army arrive by ship and are then transported by road and rail to Romania and Poland.
With this symbolic action, the Organizations of the KKE and KNE sent a message condemning the imperialist war in Ukraine and our country's involvement in it, which escalates the danger posed to the people and turns Alexandroupolis into a launching pad against the peoples.
30.03.2022