Massive strike response against the anti-labour bill
Struggle for contemporary terms of work and wages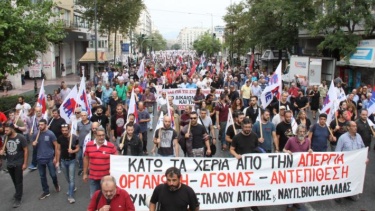 Thousands of workers across the countryresponded to the atrocious omnibusbill with a strike together with their trade unions, whichare both targeted by the government and the capital. They sent a loud message to the government and the capital,whichthrough the "development" bill,strike wages, collective bargaining agreements and the remaining labour - union rights. They made it clear that they will not step back in the struggle for contemporary terms of work and wages, contemporary rights.
In Athens, thousands of strikers responded to the call by the All Workers' Militant Front (PAME) and rallied in the city centre.
"Today's mobilization is the first step of escalation for this atrocious bill, this scandal, which turns the investors' interests into lawto be withdrawn", highlighted AlekosPerrakis, member of the Executive Secretariat of PAME, in his speech, adding: "We are at the forefront to organize the struggle and demand collective bargaining agreementswith increases in wages, health and safety measures, work with rights, a life of dignity."
The strike battlewas waged at workplaces since dawn, while the strikers decisively responded to intimidation, such as at an Athens construction site where eight builderswere taken into custody.
PAME calls on trade unions to strengthen their struggle, take every measure of informing the workers, reach every workplace and every sector with general assemblies, discussions, open board meetings and make militant decisions for the next period. To turn their backs on the undermining and strike-breaking role of the GSEE's treacherous, employer-led and disdained leadership.
The speech was followed by amilitant march to the Parliament, whilestrike rallies took place in all major cities in the country.
DIMITRIS KOUTSOUMBAS: They want to impose "dead silence"on the people. We will not allow them.
Dimitris Koutsoubas,the GS of the CC of the KKE, attended the Federations - Labour Centres - Trade Unions'strike in Athens and made the following statement to the media: "Today's strike is just the beginning. The Development Bill, brought in parliament by the ND government forthe interests of the capitalists,is a heavy blow for the working class and our people. They seekto dissolve collective bargaining agreements, to restrict trade union rights and people-workers' freedoms. They want to impose "dead silence" on our people. We will not allow them. The class-oriented movement and the KKE will be vigilant. We are here and we will be here" ._
25.09.2019