GREAT RALLY OF THE KKE IN SYNTAGMA SQUARE AND MARCH TO THE US EMBASSY AGAINST THE IMPERIALIST ATTACK ON SYRIA
No water – No earth to the peoples' killers!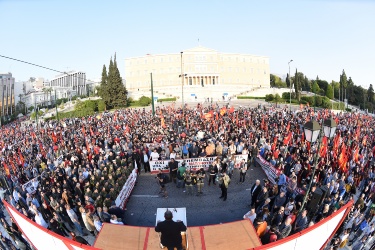 An immediate and decisive response against the imperialist intervention of the USA, France and Britain in Syria, that was supported by NATO-EU and with the complicity of the Greek government, was given on Saturday (14.04.2018) afternoon by thousands of workers, youth and pensioners, that assembled at Syntagma sq. and marched to the US Embassy, passing in front of the rest of the embassies of the protagonists of the imperialist massacre. The participation of tens of young soldiers serving their term made a particular impression.
Dimitris Koutsoumpas, SG of the CC of the KKE, that spoke in the rally, noted:
"We send a message of decisive condemnation of the new attack on Syria, unleashed by the USA, Britain, France, with the support and tolerance of the rest of the NATO and EU member-states. An attack that is already being paid off in innocent lives and even more injuries. The imperialists are making the peoples of the region bleed once again. They destroy and dismember states, utilizing falsified evidence and pretexts.
(…)It is a lie that our country, supposedly, does not take part in the new attack! The SYRIZA-ANEL government participates, and actually goes "all in", actively and with an upgraded role in the new imperialist crime. They bear great responsibilities because they implicate our country, our people even deeper in this massacre, in favor of the Greek capital, that is claiming to be take part in the share of the loot and of the markets. Systematically and without shame they embellish US and European imperialism.
(…)What we need now is to reinforce the struggle against imperialist war; to close down the base in Souda and the rest of the foreign military bases in Greece; to close down the British bases in Cyprus that have transformed into death-dealing bridgeheads; for all the Greek soldiers to return from the missions abroad; for the disentanglement of our country from NATO and the EU.»