Announcement of the Central Committee of the KKE
On the death of Kostas Sarantidis (Nguyễn Văn Lập)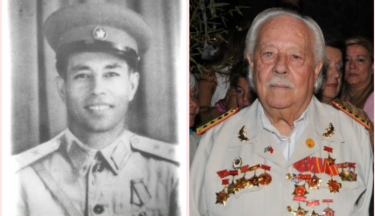 The KKE with great sorrow bids farewell to Kosta Sarantidis (Nguyễn Văn Lập), a humble Greek communist, exemplary internationalist who fought alongside the Vietnamese during French colonial rule in Vietnam and became a hero of the freedom struggle of the people of Vietnam. He passed away on 24 June 2021.
Kostas Sarantidis was born in 1927 in Thessaloniki to refugee parents from Asia Minor. A descendant of large poor family, he started working from an early age. Towards the end of World War II, he was arrested and sent to a forced labor camp, but in the meantime Germany surrendered. In 1945 he was recruited by the French into the Foreign Legion, supposedly to fight against the Japanese in the Far East.
Arriving in Indochina in February of 1946, he realized the role that French imperialism was playing, and a little later, 4 June, he defected and joined the Viet Minh. In 1949 he became a member of the Communist Party of Vietnam. He fought on the side of the Vietnamese people until the defeat of the French and the independence of Vietnam. He was then demobilized with the rank of captain and lived in Vietnam until 1965, when he returned to Greece.
Upon his return to Greece, he worked at Pechiney where he contributed to the creation of the first KKE organization in the French monopoly. He wrote books and was instrumental in raising funds for the thousands of victims of "Agent Orange" Dioxin toxicant with which the United States poisoned Vietnam.
In 2010 he was awarded honorary Vietnamese citizenship and in 2013 he was named Hero of the People's Armed Forces.
Kostas was a living link between the heroic traditions and the popular movements of our countries and those of Vietnam. His life is an example and a legacy for young militants.
The CC of the KKE expresses its deepest condolences to his children and grandchildren, to his brothers, to his fellow militants and the people of Vietnam.
His funeral and the civil ceremony will take place in Arma, Thebes, Tuesday 29 June 2021 at 8:00 a.m., followed by his cremation.
Athens 25/6/2021
PRESS BUREAU OF THE CENTRAL COMMITTEE
* A message of condolence on the death of Kostas Sarantidis was sent by the Communist Party of Vietnam to the KKE.