Greek Committee for International Détente and Peace
Protest outside the Israeli embassy against the US-Israeli plan to annex Palestinian territories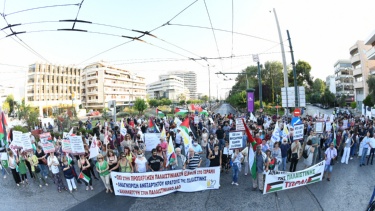 Following a call by the Greek Committee for International Détente and Peace (EEDYE), mass organizations, workers and students carried out a mass protest outside the Israeli embassy on July 1 against the annexation of  Palestinian territories by Israel, but also in the age-old criminal policy of Israel and its imperialist allies against the Palestinian people.
The demonstration was attended by a delegation of the CC of the KKE, headed by G. Marinos, a member of the PB. Also, Th. Pafilis, GS of the World Peace Council (PSE) and deputy of the KKE, and N. Papanastasis, retired lieutenant colonel of the Hellenic Armed Forces, also a deputy of the Party.
St. Tassos, president of EEDYE, main speaker, denounced the plans to annex the Jordan Valley, which accounts for 30% of the West Bank, and the US "plan of the century", which, in addition to annexing, provides for the expansion of illegal Israeli settlements in the Palestinian West Bank, the creation of a dividing wall and Jerusalem as an "indivisible Israeli capital". It denies the right of return of millions of Palestinian refugees and restricts Palestinians to certain unrelated pockets. He also denounced governments and imperialist organizations such as the EU. He called on the government to implement the unanimous decision of the Parliament to recognize the Palestinian state and called the popular movement to oppose the plans of the imperialists in the region, to fight to end the occupation, to abolish the settlements and the dividing wall, for an independent Palestinian state with East Jerusalem's capital on the border on June 4, 1967.