MEPs of the KKE
Question regarding the immediate release of the political prisoner Yerzhan Yelshibayev in Kazakhstan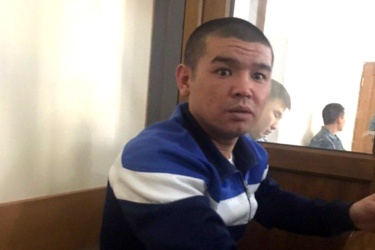 The MEPs of the KKE once again submitted a question to the High Representative of the European Union for Foreign Affairs and Security Policy, J. Borrell, demanding the immediate release of the political prisoner Yerzhan Yelshibayev, who is being held by the Kazakh authorities.
The question of Kostas Papadakis, MEP of the Party, reads as follows:
"The Kazakh authorities, under various pretexts and excuses, deny the conditional early release of the leader of the unemployed movement in the Kazakh city of Zhanaozen, Yerzhan Yelshibayev, who is in prison after being sentenced in October 2019. This is in violation of the law of the country, which provides for release from prison after serving a certain period of time.
In protest at this, Yerzhan Yelshibayev has twice gone on a hunger strike and sewn his mouth shut. The prison administration and the judicial authorities are doing everything possible to keep him under arrest, inventing various 'violations' to prevent his release from prison. They are probably afraid that he will lead strikes and rallies of the unemployed again, as he did in 2019.
During the detention of Yerzhan Yelshibayev, the authorities of Kazakhstan constantly beat him and only after we submitted a similar question in 2020 and protests of trade unions were held he was transferred to another prison.
Yerzhan Yelshibayev has been recognized as a political prisoner by human rights organizations and has repeatedly been referred to in European Parliament resolutions as an example of the violation of rights and freedoms in Kazakhstan. Today we consider that there is a serious threat to the life and health of Yerzhan Yelshibayev.
The High Representative of the EU and Vice-President of the Commission is asked what position does he take concerning:
- The demand of trade unions and mass organizations in Kazakhstan and all over the world for the immediate release of political prisoner Yerzhan Yelshibayev.
- The demand for an end to political and trade union persecution and anti-democratic restrictions by the Kazakh government and authorities."
15.06.2022