REPORT AND PHOTOS FROM THE GENERAL STRIKE ON THE 8TH OF DECEMBER 2016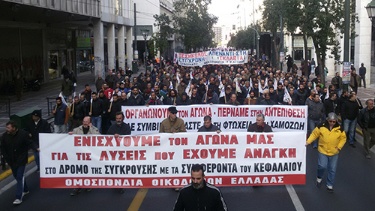 Thousands of striking workers through their participation in the mass strike demonstrations of the All-workers' Militant Front (PAME) in Athens and 64 other Greek towns on the 8th of December 2016 gave their answer to the employers-government-EU and IMF that aim to make the workers cheaper, more flexible, more easily exploited in order to safeguard the business activity, competitiveness and profitability of big capital. 
STATEMENT OF THE GS OF THE CC OF THE KKE DIMITRIS KOUTSOUMPAS
The GS of CC of the KKE, D. Koutsoumpas, participated in the strike demonstration of PAME and made the following statement to the representatives of the mass media:
«The negotiation of the government concerning the second evaluation, concerning the debt and the new anti-people budget being discussed in this period in Parliament are disastrous for the workers, for our people. The government together with the EU, ECB and IMF talks and celebrates about the recovery of the economy. However this recovery is only for the few, for big capital. Our people, the working class will suffer, will always be those who bear the burden, through the intensification of exploitation, the reduction of income and pensions with new heavy taxes, with new permanent memoranda. This is the proposal of the SYRIZA-ANEL government, this is the proposal that has in essence been accepted by the other opposition parties. 
The solution is to be found in the political proposal of the class oriented labour movement, the social alliance, the radical organizations, the KKE. So that there can be real development to the benefit of the popular needs, the workers and our people. We are all called on to fight for this proposal in the next period, to be ready for continuous, long-lasting struggles in every sector." 
Other Cities
| | |
| --- | --- |
| | |
| Volos | Larissa |
|   |   |
|  Irakleio |  Ioannina |
|   |   |
|  Karditsa | Chalkida  |
|   |   |
|  Lefakada | Trikala  |
|   |   |
| Peiraeus | Lamia |
09.12.2016