Solidarity with Cuba
The new plans of the imperialists shall not pass!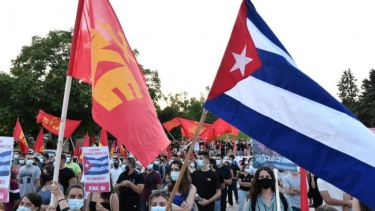 The Communist Party of Greece denounces the new escalation of the aggressive imperialist actions against Cuba and its people and in particular the call for demonstrations with anti-communist and counterrevolutionary content on 15 November, aiming to overthrow the Cuban government. These are actions orchestrated and backed by the USA, together with the anti-Cuban mafia operating on its territory as well as counter-revolutionary forces in Cuba. In recent days, the Cuban government has released a plethora of evidence on how the persons leading the counter-revolutionary actions are linked with and directly guided by mechanisms in the USA in order to create conditions of destabilization and to attempt an escalation of imperialist attacks, even a coup against Cuba.
The KKE vehemently condemns the provocative actions of the imperialist and all scenarios regarding imperialist intervention in Cuba aiming to overthrow the achievements of the Cuban Revolution.
The achievements of the Cuban people become more apparent today when, under conditions of a pandemic, Cuba has developed 5 vaccines, has the highest vaccination rate in the world and one of the lowest mortality rates, and has sent internationalist medical aid to other peoples!
The KKE calls for the strengthening of the struggle to end the barbaric imperialist blockade  against Cuba and the lifting of the 234 additional economic measures imposed by the Trump administration and maintained by the Biden administration. It once again expresses its solidarity with the Cuban people, the government and the Communist Party of Cuba.
The people of Athens and other cities in Greece will be able to express their solidarity with Cuba  in practice during the events and marches commemorating the anniversary of the Polytechnic uprising and demonstrating against US–NATO imperialism and its interventions and plans across the world.
Cuba will win!
International Relations Section of the CC of the KKE
12.11.2021