Statement by Dimitris Koutsoumbas, General Secretary of the CC of the KKE, on the 72nd anniversary of Nakba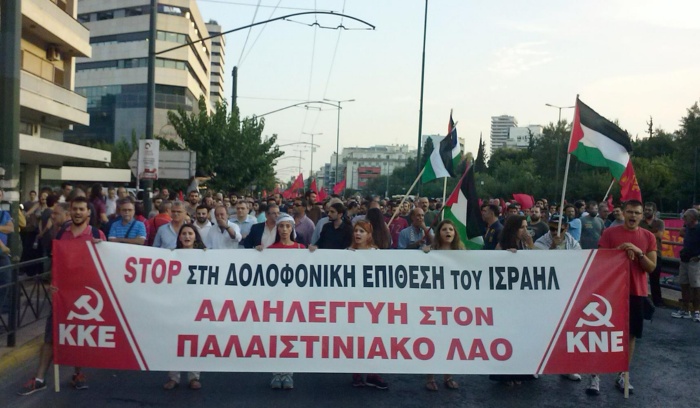 The Communist Party of Greece expresses its full support for the tormented people of Palestine, who have been waging a just, long-lasting and heroic struggle for 72 years, in an extremely unfavorable correlation of forces.
The communists of Greece denounce the crimes committed against the Palestinian people by Israel, with the methodological and timeless support of the USA and the EU. With this attitude, the US and EU imperialism contributes to the escalation of the criminal aggression of the Israeli state in Palestine and in the wider region.
The KKE also denounced the new US plan, stressing that it maintains and shields Israeli occupation, cedes Jerusalem to the state of Israel, which proceeds to annexing the Jordan Valley, and maintains settlements.
We would like once again to express the KKE's firm solidarity with the Palestinian people's struggle to bring an end to the Israeli occupation. This just struggle can be justified by continuing the unrelenting struggle against imperialist interventions and the plans of the bourgeoisie in the region, while at the same time strengthening internationalist solidarity and action.
To end Israeli occupation and its consequences.
To create a united independent Palestinian state with East Jerusalem as its capital within the 1967 borders, with the people being master of their own land.
For the right of all Palestinian refugees to return to their homes, based on relevant UN resolutions.
For the immediate release of all Palestinian and other political prisoners held in Israeli jails.
Freedom for Palestine!
15/5/2020