The first pre-election video of the KKE ahead of the parliamentary elections of 21 May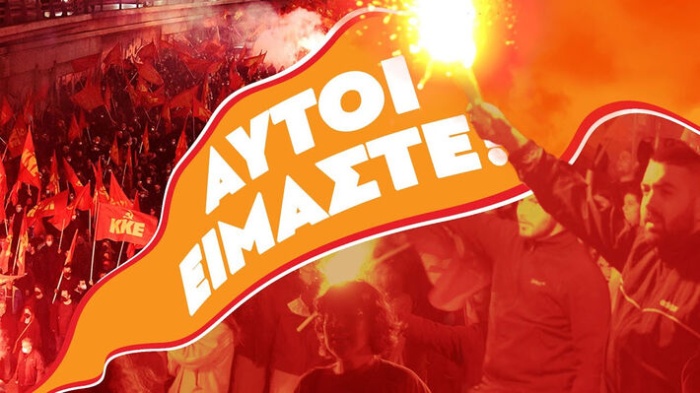 "The only worthy vote for the people and the young generation is the vote for the KKE, which expresses the consistency of words and works; which will not lead to disappointment; which the people and the youth will find by their side in every struggle; which exerts pressure for a sigh of relief; which sheds a light and paves the way for the real way out", stresses KNE, presenting its first pre-election video ahead of the elections that will be held on 21 May.
The 2-minute video includes footage of the KKE's activity such as:
- workers' struggles
- demonstrations against the imperialist war and NATO
- the protest outside the court during the trial of the members of the CC of the KKE and the CC of KNE in Thessaloniki for their actions against Greece's involvement in the imperialist war
- the anti-fascist demonstration of trade unions during the trial of the criminal fascist formation "Golden Dawn"
- the action of communists during disasters (wildfires, snowstorms)
- the May Day event during the pandemic
- the mass demonstration of the KKE and KNE at the US embassy on the anniversary of the Polytechnic students' uprising
- the great political and cultural event of the country — the KNE–Odigitis festival
- events of solidarity with immigrants and refugees
- the joint action of KNE and the Communist Youth of Turkey
- last year's victory of KNE in the university students' elections
- the mass demonstrations of the people and the youth following the recent railway crash
The statement of the great music composer Mikis Theodorakis, who noted that "I lived my greatest and most beautiful years in the ranks of the KKE", as well as the statement of the great music composer Thanos Mikroutsikos, who said that "I will be here until the end of my life" constitute two special moments of the video. Both of these great men of culture have recently passed away.
KNE thanked the music band "Koinoi Thnitoi" who licensed their music for the video.
05.04.2023