Great classical music concert devoted to the struggle for the liberation of the working class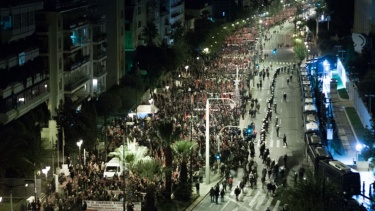 On October 18, 2017, within the framework of various events organized by the KKE to mark the 100th anniversary of the Great October Socialist Revolution, a concert was held with the Symphonic Orchestra of the Greek Broadcasting Corporation (ERT) at the Megaron Music Hall with works by the Soviet composers Dmitri Shostakovich, Sergei Prokofiev, and Aram Khachaturian.  
The ERT Orchestra was directed by internationally renowned orchestra conductor Alexander Myrat.
Lukas Anastasopoulos, member of the Culture Department of the CC of the KKE and the Office of the CC of KNE, noted in his brief greeting before the concert that "the works of the three great Soviet composers we will hear tonight were created in a society which had abolished exploitation of man by man. In a society where the focus of development was on meeting the needs of the working people and the youth, the all-sided development of man. The October Revolution inaugurated a new era in the history of humanity. It was a window open to the sunshine of a future radically different from that of wars, crises, poverty and misery for the millions of workers that was engendered by capitalism. Red October revealed the huge productive potential of socialist society. In a very short period of time, the young Soviet Union succeeded in coping with the delays and pre-capitalist remnants of the nations that comprised it, covering the great distance that separated it from the powerful capitalist countries and in many areas overcoming them. One of these areas was Art, and Culture in general (...) The most valuable gift of the October Revolution in the field of Culture, not only for the people of the Soviet Union but also for the oppressed of the whole world, is that it opened the road to a new Art, Art for the working people and a new society, where the owners of wealth will be those who created it and not their few exploiters ...»
The concert was attended by a large delegation of the CC of KKE, headed by its General Secretary, Dimitris Koutsoumpas, as well as the President of the Hellenic Republic, Prokopis Pavlopoulos; the Speaker of the House, Nikos Voutsis; the Ambassador of Vietnam, Tran Thi Ha Phuong, and delegations from the Russian the Venezuelan and Chinese embassies along with many representatives from the artistic and intellectual community of the country.
19.10.2017