5 years after the murder of the workers in Zhanaozen (Kazakhstan)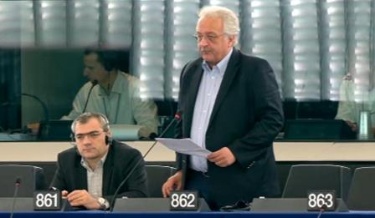 This year is the 5th year since the bloody repression of the workers strike in the city of Zhanaozen (December 2011), while the Nazarbayev regime continues to refuse to allow legal political and trade union activity and persecutes various militants, imposing heavy sentences on them.
The MEP of the KKE, Sotiris Zarianopoulos, who is a member of the European Parliament Delegation to the EU-Kazakhstan, referred to these matters in a question to the High Representative of the European Union for Foreign Affairs and Security Policy, F.Mogherini.
The MEP of the KKE stressed the following in his question:
"On the 28th of November 2016, the courts of Kazakhstan sentenced Maks Bokaev and Talgat Ajan, who had struggled against the government of Kazakhstan's decision to privatize millions of hectares of land, to long prison terms.They were both sentenced to 5 years in prison, on the basis of the articles of the criminal code "on the incitement of social hatred" and with the pretext of "not observing the regulations for the organization of mobilizations".
This occurred a few days before the anniversary of the bloody repression of the workers' strike in Zhanaozen (December 2011), which led to the death of 70 workers (15 according to the authorities) and the imprisonment of 17 others, and while up until today the Nazarbayev regime refuses to allow the legal activity of trade unions, as well as of political parties and organizations, like the Communist Party of Kazakhstan and the Socialist Movement of Kazakhstan.
What position does the High Representative take regarding the decision of the authorities of Kazakhstan to imprison people because they struggled against plans to privatize land?
What does she intend to do annul the prison sentences, which have been imposed with political motives, to stop the political and trade union persecution, to safeguard the right to trade union organization, to demonstrations, to the right to strike, as well as the punishment of those who are really guilty for the murder of dozens of striking workers in the city of Zhanaozen in December 2011?"
13.12.2016