PRESS OFFICE OF THE CC OF THE KKE
Announcement on the disastrous fires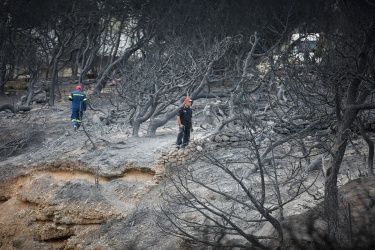 An announcement by the Press Office of the CC of the KKE on the disastrous fires states the following:
"The KKE expresses its condolences to the families of the victims of the fires in the area ofNeaMakri and Rafina. It supports the dozens of injured people and thousands of people who saw their propertiesbe consumed by firein the fires that hit East and West Attica.
The KKE demands from the government to mobilize all the necessary forces of the state mechanism to support the inhabitants of the regions. The government must take all necessary measuresin order to:
1. Immediately record the missing persons and responsibly inform their families and all those seeking their own people.
2. Take immediate measures to support local health structures with personnel and means of healthcare for those in need.
3. Take immediate measures of safe housing, cleaning and hygiene, clothing and feeding of the familieswho were hit by fires.
4. Proceed to immediaterehabilitation of water and electricity supply in affected areas.
5. Immediately record the damage and proceed to total compensation ofthe stores, the equipment, the commoditiesof the self-employed and small businesses, as well as the properties of the working and popular families.
The dozens of dead and wounded are added to the victims of the floods of West Attica 8 months ago. The incalculable destruction in houses, shops, craftenterprises are added to the countless devastating consequences that the working and popular strata of Attica have been facing for many years after earthquakes, floods, fires. The Fire Brigade prevented a major industrial accident, with unpredictable consequences, as the flames reached the fencing of a large refinery.
The natural disasters "find" Attica unprotected and the infrastructures, which can face the consequences of these disasters, in total breakdown. Despite the heroic effort of firefighters and those involved in dealing with natural disasters, it is a predictable development that after such phenomena we will measure new victims and new incalculable disasters of popular properties and natural wealth. This is because there is no real planning to prevent and deal with them.
The government, the responsible state actors and the Attica Region know in detail the shortages in personnel, means and infrastructure needed to prevent and immediately deal with such phenomena. The KKE timely, with a central event on May 10th, had warned of the major gaps identified at the start of the fire-fighting periodin order to make substantial proposals on issues of prevention and protection of human life and the environment. However, no substantive issue has been solved.
The announcements of the Prime Minister at the Conferences of Developmentof the Western and Eastern Attica proved to be empty words. Fire protection works, as well as flood protection and anti- earthquake protection projects, are not being implemented because they are a costwithout profitsfor the capitalists and the bourgeois state. The needs of the working and popular families literally become a sacrifice at the sake of the growth of business profits.
The KKE calls upon its members and friends, the members of KNE to take the lead through theiraction at the trade unions and other mass organizations in Attica for the organization of solidarity to those hit by the fires. To organize the immediate assistance of those in need by gathering material help and organizing voluntary work. To lead the struggle for organization by demanding works and infrastructures which meet their needs."
24.07.2018