Mobilization of KNE in response to the fires in the Amazon
Capitalist development destroys the environment for profit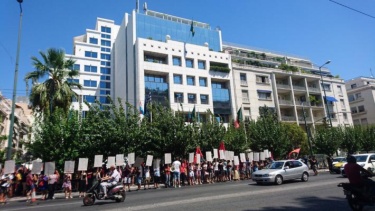 The Communist Youth of Greece (KNE) held a mobilization on Tuesday, August 27, at Syntagma Square (outside the Greek parliament), against the environmental disaster that is taking place in the Amazon. The purpose of the mobilization was to inform the people and it was followed by a protest at the Brazilian embassy.
As stated in a press release from the Press Office of the Central Council of KNE:
"The enormous disaster taking place in the Amazon region, the ecosystem which is rightly called the"lung"of the Earth, proves once again, in the most tragic way, that capitalism and the relentless hunt for profit by the big business groups cause disasters on the planet!
The disaster in the Amazon is directly linked to the anti-environmental policy of the reactionary Brazilian government of Jair Bolsonaro, which gives the area to be exploited for biofuels, agricultural production, mining and extensive logging by multinationals, something that the former social democraticgovernments of Lula and Rousseffhad begun to do.
The "sensitivity" of the EU and G7 governments is hypocritical, as the contradictions between them have to do - among other things –with the exploitation of the Amazon, which is part of the dispute over the big business groups,at the same time that the EU - Mercosur agreement (Brazil, Argentina, Uruguay, Paraguay), which strengthens their action, is being promoted.
The ND government and SYRIZA are also involved in this hypocritical "brawl", while they both have heavy responsibility for major environmental disasters, such as the fire in Mati and the floods in Mandra, which cost hundreds of lives, the fires in the Peloponnese and Euboea, the planned abandonment of green areas, parks (e.g.Tritsi Park), etc. obviously aiming at their privatization. Their "law" is an "incendiary" policy that considers the protection of people's lives to be a "cost"butthe reinforcement of monopolies to be a "benefit".
Protecting the environment is an issue that concerns the living conditions of the people and the youth! This is why it cannot be left in the hands of the exploiters who are responsible for the situation we are living in, but it can become an element of the struggle to overthrow this system and those who serve it!".
Similar mobilizations will take place on Thursday 29 August throughout Greece.
28/08/2019