COMMUNIQUE OF THE PRESS OFFICE
End now the murderous attacks against the Indian Communists!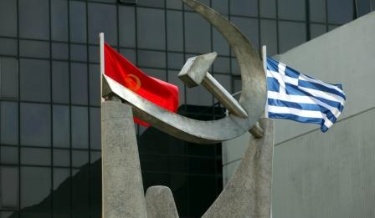 The Communist Party of Greece (KKE) strongly condemns the murderous attacks at the expense of the communists, friends and supporters of the Communist Parties, as well as the vandalizing and take-overs of offices of the CPs, of mass organizations of the people's movement in the states of West Bengal and Tripura, where the forces of the governmental BJP party and their allies have been elected in the local governments, such as the Trinamool Congress in W. Bengal.
The situation is extremely dangerous. In the past four months more than 11 cadres of the CPs have lost their life, while thousands of militants have been injured in the two states, many thousands of property (party offices, offices of mass organizations, homes, shops) have been completely destroyed.
In these circumstances, the initiatives undertaken by the Communists and the mass organizations of the working class movement of India have great importance, such as the demonstration on July 24th, in favor of democratic rights and liberties, against the anti-people politics of the bourgeois government, against repression and the attacks of reactionary and nationalist forces.
The KKE expresses its internationalist solidarity to the Communists of India, to the CPI (m) and to the CPI, as well as to the working class of India and demands from the Indian government to immediately put a stop to the criminal attacks.
Athens 18/7/2018                                      THE PRESS OFFICE OF THE CC OF THE KKE