QUESTION OF THE PARLIAMENTARY GROUP OF KKE
Fully restore diplomatic relations with Syria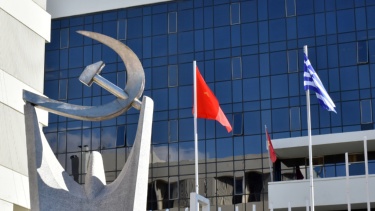 The Parliamentary Group of KKE submitted a question to the Foreign Minister, requesting the restoration of Greece's diplomatic relations with Syria and the opening of embassies in Athens and Damascus.

The Party Question states:

As it is known, the Greek embassy in Damascus suspended its operation in July 2012, "for security reasons", as it is still reported on the official website of the Greek Ministry of Foreign Affairs. Shortly afterwards, the Syrian ambassador to Athens was deported and the embassy suspended its operation (December 2012).

These developments took place when the imperialist intervention in Syria was in progress and the alignment of the then Greek government was with the USA and the EU, which openly supported the overthrow of the Syrian leadership.

Eight years have passed since then and it is clear that the plans of the imperialist powers and their allies, which, among other things, armed and supported Islamic militant forces, have failed at the moment, seeking the violent overthrow of the Syrian government. The Syrian government is currently in control of the entire country, with the exception of a section illegally held by Turkey and gang pockets.

In addition, developments in our wider region are further complicated by Turkey's unacceptable agreement with Libya's established leadership, which is also a result of the imperialist intervention in Libya.

The current state of affairs is creating a dangerous "mix" for developments in the Eastern Mediterranean and the wider region, and the country needs to be immediately disengaged from imperialist plans, taking steps to reach an agreement and co-operation with neighboring countries and peoples. "

"In this context, KKE raises the issue of diplomatic relations with Syria," and the foreign minister was asked the following:
What does the government intend to do to restore diplomatic relations with Syria, to open a Syrian embassy in Athens and a Greek embassy in Damascus?
What are the problems that delay or hinder the opening of the embassies?