Germany: Greek and Turkish communists honor together communist leaders Liebknecht and Luxemburg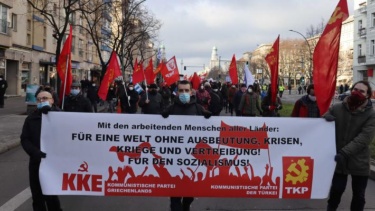 A demonstration in honor of the leaders of the German and international communist movement, Karl Liebknecht and Rosa Luxemburg, was held on January 10, 2021, in Berlin.
Observing the health protection measures against the pandemic, members and friends of the KKE and the KNE in Berlin together with the Communist Party of Turkey (TKP), joined the forces of the German Communist Party (DKP) and the Socialist German Worker Youth (SDAJ), and took part in the demonstration, under the slogan: "Together with the workers of all countries: For a world without exploitation, crises, wars and refugees, for Socialism!".
The two leaders of the "Spartacus" group and the newly established Communist Party of Germany (KPD) were brutally assassinated 102 years ago by paramilitary groups, under the command of the German bourgeoisie and the social-democratic government of Friedrich Ebert, shortly after the suppression of the Berlin workers' revolution.
This year's mobilization, which took place in pandemic conditions and in compliance with health protection measures, was faced with the provocative stance of the police forces that tried to prevent the march from taking place, while they also made several arrests. After an hour and a half of delay in the bitter cold of Berlin, the protesters' persistence on carrying out the march forced the police to retreat. The march began from Frankfurter Allee, the central avenue of East Berlin which is the extension of the historic Karl Marx Allee, and ended at the monument - cemetery of dozens of personalities of the German and international labor and communist movement, of the dead of the November 19 Revolution, the International Brigades and the struggle against fascism. At that location, a large crowd of people paid their respects by laying red carnations, proclaiming that Carl and Rosa are showing the way for the liberation of the working class.
It should be noted that three days ago the "Die Linke" party announced that it will not participate in the march and will organize a "silent event of honor" in March, when the pandemic ends ...