Large rally of the KKE in Athens
Hands off the struggles of the people! Withdraw the bill, which prohibits protests!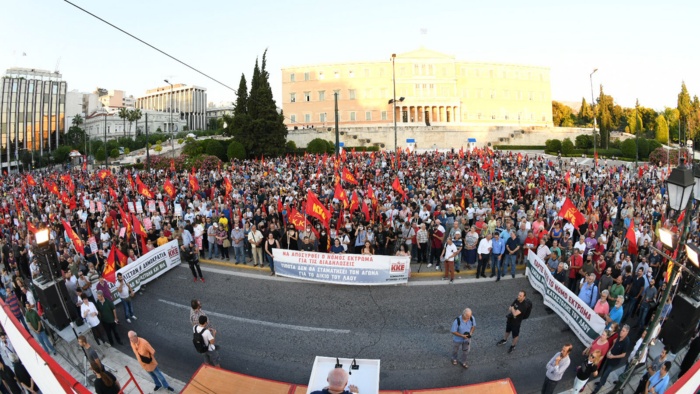 Thousands of people responded to the call of the Party Organization of Attica  of KKE and took part in a rally against the bill which bans protests, on Thursday 2/7 outside the Greek parliament building.
The rally was the first in response to the government's authoritarianism, while the participants renewed their meeting on the escalating mobilizations, with unions and organizations actively entering the struggle against the abortive bill.
The main speech at the rally was delivered by Kyrillos Papastavrou, member of the PB of CC of the KKE. Also speeches were made by Dimitris Stathopoulos, a retired appellant, and Giorgos Paliouras, a retired lieutenant general of the Hellenic Police, member of the Section for the Armed Forces and the Security Forces, of the CC of the KKE.
The rally was attended by a large delegation of the CC of the KKE, headed by GS Dimitris Koutsoumbas, who told the media: "There are no improvements or corrections to this despicable bill. The only solution is to get rid of this reactionary monster. In each case, on the streets of the struggle what is right  will be judged".
Rallies, manifestations and protests took place in Thessaloniki and many other cities across the country.