KNE protests at Chilean Embassy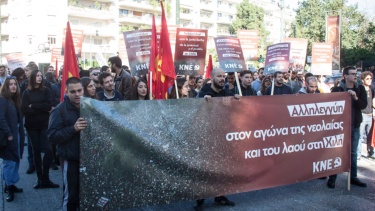 A protest of KNE at the Chilean embassy against the bloodthirsty repression on popular demonstrations was held at noon on November 25, while expressing the solidarity of KNE in the fair fight of the youth and the people of Chile.
A KNE delegation handed over a note to the Embassy, which stands in solidarity with the struggle of the Chilean people and demands that: The rightful demands of the demonstrators be fulfilled. End of state repression. Hands down from the Chilean Communists. Punish those responsible for the killings, the injuries and the imprisonment of the protesters.