Delegation of KKE in European Parliament
MEPs OF THE KKE SUBMITTED A QUESTION REGARDING THE REPRESSION OF PEOPLE'S MOBILIZATIONS IN COLOMBIA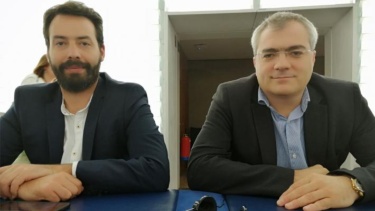 The MEPs of the KKE denounced the repression against the ongoing people's mobilizations in Colombia. MEP Lefteris Nikolaou-Alavanos submitted a question to the EU High Representative for Foreign Affairs and Security Policy, Josep Borrell.
Over the past days, thousands of workers, poor farmers, and young people participated in mass strikes against the policy of the Colombian government, which sought to raise the taxation on popular strata and to impose anti-popular reforms for the further privatization of  the healthcare system.
The mobilizations were met with violent repression by the army of the reactionary Duque government, while parastatal groups targeting grass-roots fighters and trade unionists continue to operate with the connivance of the state. This kind of groups are supported by sections of business men in Colombia and are utilized to intimidate workers that resist the anti-popular policy of the government. Dozens of people have been arrested and injured by state repression across the country, while at least 42 people — mostly young people— have lost their lives.
The policy of repression against the labour–people's movement in Colombia goes hand in hand with the close connections of Colombian capitalists, who ally themselves with the USA to promote imperialist plans against other peoples in the region.
The fact that the Duque government bowed to popular pressure and backtracked on the taxation bill on popular income does not negate the anti-popular plans of this reactionary government, which continues repression, arrests, and even assassinations of grass-roots fighters to impose the policy that increases the profitability of business groups.
The EU has signed a Trade Agreement with Colombia and reinforces the trade and political relations between the two countries. It thereby promotes the interests of European monopoly business groups in Latin America and aligns itself with the dangerous US–NATO plans in the region, strongly backing coup instigators such as Guaidó.
Based on the above, the MEP of the KKE submitted the following question:
"What is the position of the EU High Representative for Foreign Affairs and Security Policy/Vice-President of the European Commission as regards state repression and parastatal violence in Colombia, resulting in the death of dozens of demonstrators as well as the arrests and injuries of hundreds of people?".
19/5/2021