45th anniversary of the Polytechnic uprising
Mass anti-imperialist demonstration outside the US embassy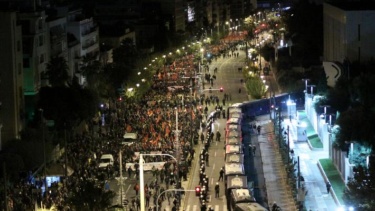 Events honoring the 45th anniversary of the Polytechnic uprising of the students and the working class youth of Athens were organized on 17th November throughout the country.
The uprising was the crowning moment of the struggle against dictatorship during the period of the military junta which was supported by the USA and the NATO. Although, the uprising was severely suppressed by the military junta, it had signaled the beginning of its end (you can find more information here).
A big demonstration was held in Athens which ended at the US embassy. The contingents of KKE and KNE were particularly mass. The contingent of soldiers who participated in the demonstration under the slogan "soldiers are sons of the people, they have nothing to do outside the borders" was particularly impressive.
A large delegation of the CC of the KKE participated in the demonstration, headed by its GS, Dimitris Koutsoumbas, who made the following statement:
"The aims and the slogans of the Polytechnic uprising demanding the closure of the atrocious military bases, the disengagement from NATO, social, democratic, labour, people's rights have not been fulfilled today. For that reason, we continue the struggle, until the final victory, forever".
Demonstrations and other events took place in other Greek cities as well. In Thessaloniki the demonstration ended at the US consulate.
19.11.2018