Mass demonstrations against the anti-labour bill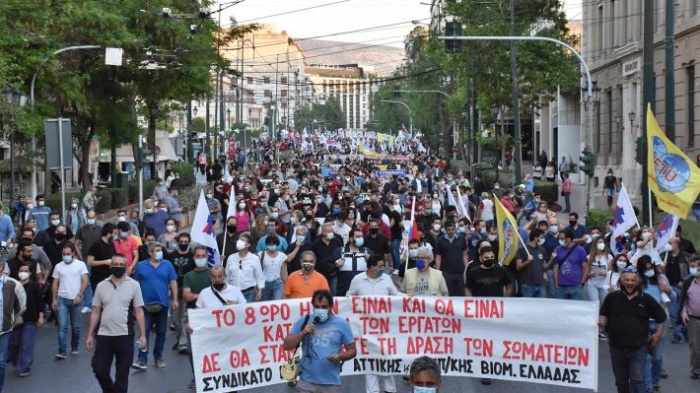 Thousands of workers in Athens, Thessaloniki, and other cities in Greece responded to the call of the trade unions rallied in the All-Workers' Militant Front (PAME) against the new anti-labour bill that provides for the abolition of the 8-hour working day and poses new obstacles to trade union action. The workers shouted  "Hands off the 8-hour working day", making it clear to the government and employers that they will not become "slaves in the 21st century."
Athens
Thessaliniki
Nikos Papageorgiou, member of the executive committee of the Federation of Workers in Hospitality–Tourism (POEET) and of the General Confederation of Greek Workers (GSEE), addressed the mass rally of the trade unions in Athens and stressed that their message is: "The anti-labour monstrous bill must be revoked." He added that "Our own gospel is the defence of the 8-hour working day and the demand for the 7-hour working day, 5 days a week; for increases in salaries to meet our needs; for measures to protect our health and safety at workplaces."
He further stated that "The working class responds to government announcements with the following phrase: We will not become slaves in the 21st century! The announcement of the "Minister of Employers" can be addressed only in one way: We will take to the streets! We will struggle to escape from the nightmare that they are creating for us!
This is not simply another bill, another effort to hinder our everyday struggle to make ends meet. This is a steamroller that crushes the cornerstone of our rights, the working hours". Summarizing the forecasts for a 13-hour working day, for 150 hours of overtime per year, for the exclusion of the break from working hours, N. Papageorgiou called on the workers to ask themselves: "Is there a limit to human exploitation? Is there a limit to the employers' thirst for profits?"
"We have to explain these measures one by one; to explain the reason why they took these measures and why they did it now", he pointed out and added "This is because the exit from the pandemic will reveal to the people what had been concealed and had already started. i.e. the new, deeper capitalist crisis. (...) Now they need to intensify our work as they see fit in order to maximize their desirable profits. That is why today they are striking a blow to what we regard sacrosanct; the 8-hour working day and our right to organize. That is why they keep electronic files of members of trade unions. That is why they want the trade unions to play the role of the employers' "salesman". That is why they hate anyone who questions this exploitative barbaric system and its exponents."
Afterwards, the demonstrators marched in the main streets of the Greek capital and reached the parliament. While the demonstration was marching outside the Ministry of Labour, the protesters hung a banner changing its name to "Union of Greek Employers".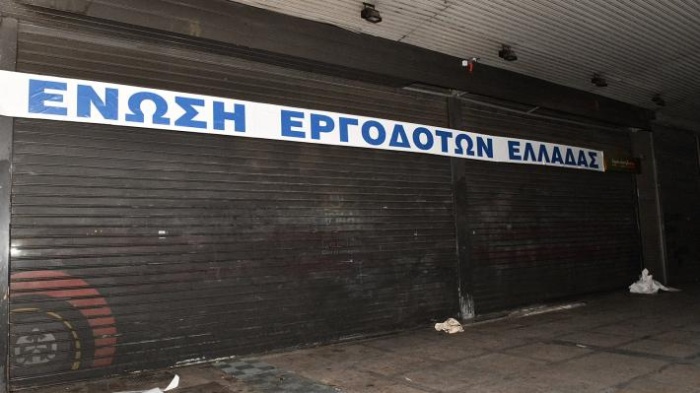 It should also be noted that the trade unions denounced the state of Israel that once again murders the Palestinian people, with the connivance of the USA and the EU. The trade unions expressed their solidarity with the Palestinian people, assuring that they will continue to develop initiatives against the imperialist plans and Israeli barbarity.
14/5/2021
Patras