Mass rallies of trade unions and mass organizations for the 8th of March
In the struggle against exploitation, oppression, and state repression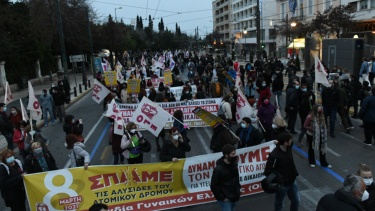 Trade unions and sectoral federations, associations and groups of the Federation of Greek Women (OGE), organizations of the self-employed and students' associations honoured International Women's Day on the 8th of March,  by organizing mass rallies and marches in Athens and many other cities in Greece. In Athens, the demonstrators held a rally and marched to the Greek parliament.
The GS of the CC of the KKE, D. Koutsoumbas, attended the rally in Athens and made the following statement to the media on 8 March: "Once again, it is proven that the covered mouths wearing masks have a voice that can be heard  loud and clear, against exploitation, the oppression of men and women, for the meeting of their contemporary needs, against the abuse and violence against women, for the equality of women, against governmental and state authoritarianism and repression".
Earlier, during a visit at the KAT Hospital, the GS of the CC of the KKE stated: "On the occasion of International Women's Day, I would like to convey a message: "We ,men and women together, are moving forward even more strongly in the new class struggles ".
09.03.2021