No participation – No involvement in imperialist wars and plans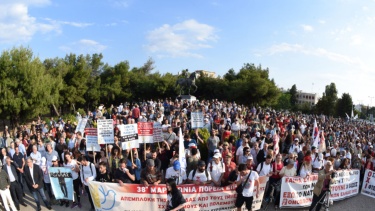 The Greek Committee for International Detente and Peace (EEDYE) held mass anti-war – anti-imperialist mobilizations on May 13th 2018 across the country. The EEDYE called upon the people to turn their anxiety into organized struggle against imperialist wars and the causes that create them, to struggle for the disengagement of Greece from the claws of NATO and the EU, to not change borders and the international treaties that determine them.
In Attica the 38th Marathon Peace March took place, starting early in the morning from the ancient Tomb of Marathon and ending up at the National Ministry of Defense in Athens in the evening
In Thessaly there was a mass march in Larisa from the Square of the Hellenic Tactical Airforce Command (ATA) towards the 1stArmy Base.