STATEMENT OF THE CENTRAL COMMITTEE OF THE KKE
ON THE PASSING OF COMRADE TAMILA YABROVA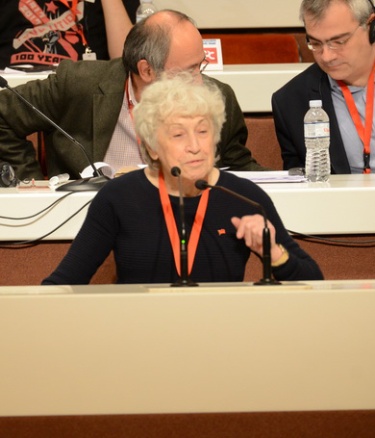 A great loss to the international communist movement
On 3 September, comrade Tamila Yabrova, President of the Union of Communists of Ukraine and editor-in-chief of the theoretical journal in Russian language  "Marxism and Contemporary Era", passed away.
Comrade Tamila Yabrova was an economist who fought with all her might against the counter-revolutionary process in the Soviet Union, which led to the restoration of capitalism.
She was actively participating in the movement of the "Marxist Platform in the CPSU" and subsequently in the effort to regroup the communist movement in the USSR territory and at an international level. She had been the head of the Union of Communists of Ukraine since 1991. In 1995, she began publishing the theoretical journal "Marxism and Contemporary Era".
From the outset, Tamila Yabrova supported the efforts of the International Meetings of Communist and Workers' Parties, which were initiated by the KKE, and actively contributed to the discourse that was taking place in support of the struggle against opportunism and social democracy, for the revolutionary regroupment of the communist movement. She supported both the formation of the "European Communist Initiative" and the "International Communist Review".
She will also be remembered by the communists of Greece for her contribution to the theoretical symposium organized by the "Communist Review", the journal–political and theoretical organ of the CC of the KKE, on 15–16/12/2007, under the theme: "Issues of research on the causes of the victory of the counter-revolution and capitalist restoration, with a focus on the USSR"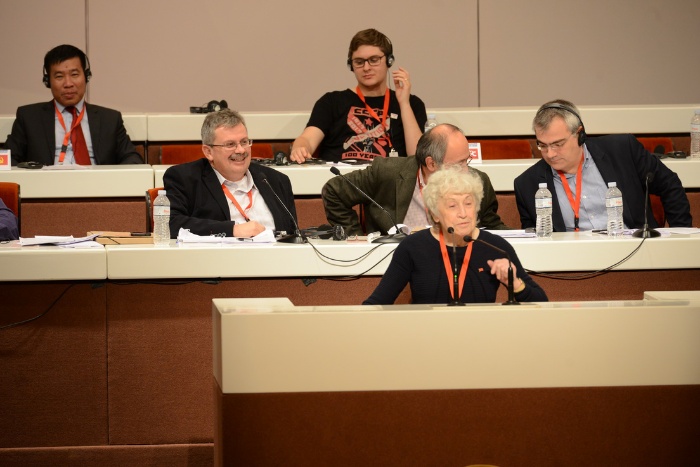 Tamila Yabrova on the podium during the 20th International Meeting of Communist and Workers' Parties (Athens 2018)
Despite her advanced years, the late comrade Tamila Yabrova, who passed away at the age of 92, impressed us not only by her unshakable faith in the cause of the working class and the socialist–communist society, but also by her deep knowledge of the world view of scientific socialism and socialist experience, as well as by her vivacity, militancy and agility.
Her militant figure, who did not bow down, not even to the latest anti-communist wave in Ukraine, should light the way for all communists to make up for the loss of comrade Tamila Yabrova; a loss not only to the labour movement of the former USSR, but also to the international movement.
The KKE expresses its sincere condolences to her family and to the communists of Ukraine and the former USSR.
Instead of sending a wreath, the KKE will contribute to the publication of the next issue of the journal "Marxism and Contemporary Era" that comrade Tamila Yabrova was preparing.
ATHENS 04/09/2021
THE CENTRAL COMMITTEE OF THE KKE
https://www.902.gr/eidisi/politiki/270107/efyge-i-syntrofissa-tamila-giamprova-megali-apoleia-gia-diethnes