Statement of the Press Office of the CC of KKE
On the 21st Congress of the KKE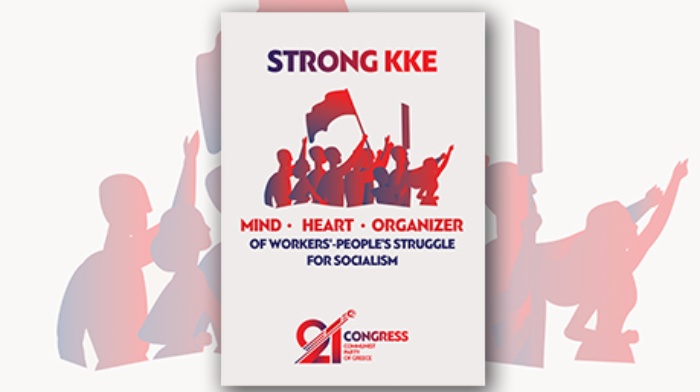 1] The Central Committee of the KKE announces its decision to proceed with the preparation and conduct of the 21st Congress of the Party in 2021. Based on the Party statute, the Congress is held every four years. The last 20th Congress was held from March 30 to April 2, 2017. The CC reserves its decision for the exact date to conduct the Congress, taking into account the pandemic wave and the difficulties that objectively arise, due to the inadequacies and the huge shortcomings in the public health system, under the responsibility of all bourgeois governments to date and the management of the crisis by the New Democracy government. The exact date will be announced when all necessary information and scientific data are available.
2] The topics of the 21st Congress, based on the statute, will be the following: a) The report of work of the Central Committee and the Party as a whole from the 20th towards the 21st Congress, the basic assessments on the international and domestic economic and political developments of that period, the condition of the labour – people's movement and the Party's tasks up until the 22nd Congress and b) The election of a new Central Committee and Central Audit Committee.
3] Regarding the first topic of the Congress, the Central Committee is already proceeding with the elaboration of the theses of the CC, which will be published in order for the deliberations to begin within the elected leading organs of the Party and all the Party and KNE Organisations. The following theses of the CC will be made public for deliberation:
First text: "THE REPORT AND CONCLUSIONS ON THE ACTION OF THE CC AND THE PARTY AS A WHOLE FROM THE 20TH TO THE 21ST CONGRESS –THE PARTY AS THE GUIDE OF THE REVOLUTIONARY LABOUR MOVEMENT, THE SOCIAL ALLIANCE, IN THE STRUGGLE FOR SOCIALISM-COMMUNISM".
Second text: "THE CURRENT INTERNATIONAL REALITY AND THE POLITICAL – MILITARY FRAMEWORK OF THE CONTEMPORARY WORLD. THE SITUATION IN THE INTERNATIONAL COMMUNIST MOVEMENT AND THE ACTIVITY OF THE KKE. THE ASSESSMENTS OF THE KKE ON THE DEVELOPMENTS IN DOMESTIC ECONOMY AND IN THE POLITICAL SYSTEM OF THE COUNTRY".
Third text: "THE CLASS STRUCTURE OF THE GREEK SOCIETY, THE CONDITION OF THE WORKING CLASS TODAY, THE COURSE OF THE LABOUR–TRADE UNION MOVEMENT, THE ADVANCEMENT OF THE SOCIAL ALLIANCE AND THE INTERVENTION OF THE KKE".
The first text of the theses of the CC will be published in the weekend edition of Rizospastis, on January 30-31, 2021, and the rest will follow in the following weekends.
26.01.2021