COMMENT OF THE PRESS OFFICE OF CC OF THE KKE
On the NATO exercises "Sea Shield-2019" in the Black Sea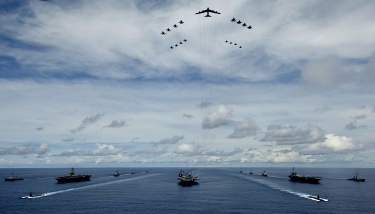 The conduct of the largest NATO naval exercise in the Black Sea, with the title Sea Shield-2019 and the participation of the USA, Bulgaria, Greece, Canada, Romania, Netherlands, Turkey as well as of Ukraine and Georgia is a further addition to the "merry-go-round" of friction in the relations of the NATO imperialist alliance with Russia.
This was preceded by the "commitment" of the NATO countries to approve a "raft of measures" to support Ukraine and Georgia.
These acts by NATO come shortly after the provocation which the naval forces of the reactionary government of Ukraine attempted in this region and specifically in the Strait of Kerch.
The SYRIZA government cannot hide behind the so-called "progressive alliance". In practice, it is aligned on this issue as well with the line charted by ND and all the bourgeois parties, which have at various junctures governed the country and entangled it in the NATO operations and inter-imperialist antagonisms that endanger the peoples.
The struggle for the immediate return home of Greek military forces that are on imperialist expeditions abroad must be intensified!
No participation in the imperialist plans and organizations!
Greece must stop being a launching pad for the imperialist wars of NATO-EU!
8/4/2019 THE PRESS OFFICE OF THE CC OF THE KKE