Persecutions at the expense of trade unionists-parliamentary candidates of the KKE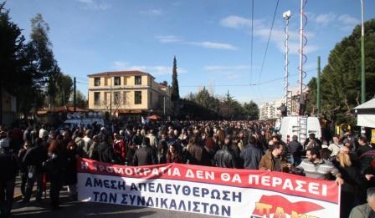 The bourgeois state is carrying out the persecution of militant trade unionists, in a period when the very tough electoral confrontation of the KKE against the bourgeoisie, the EU and its parties is underway.
A request for the waiving of the immunity of the MEP and parliamentary candidate of the KKE in the A region of Thessalonica, Sotiris Zarianopoulos, was submitted to the EU parliament by the Greek prosecutors.
The communist MEP is being persecuted because, as the secretary of the Thessalonica Labour Centre and cadre of PAME, on the 4/3 2010, on the eve of a general strike, together with other trade unionists- representatives of the trade unions, he promoted the positions of the class-oriented labour movement through the then public TV channel ET-3. These positions were being systematically concealed and distorted by the public and privately owned mass media. Criminal charges were brought against him for this intervention in the midday news programme of ET-3. The charges are "unlawful violence and disturbance of the peace"
On 12/1 the President of the Labour Centre of Larissa, cadre of PAME and parliamentary candidate of the KKE, Tasos Tsiaples, found himself in the dock due to his participation in mobilizations for the abolition of road tolls. The trial was postponed to January 2016.
At the same time as the bourgeois system is demonstrating its ruthlessness against the communists, certain international bourgeois mass media present SYRIZA, well-known in Greece for its contribution to undermining the struggles over the last two years, as an allegedly "subversive" and "radical" force.
No further comment is required…