Police attacks workers and unemployed in the centre of Athens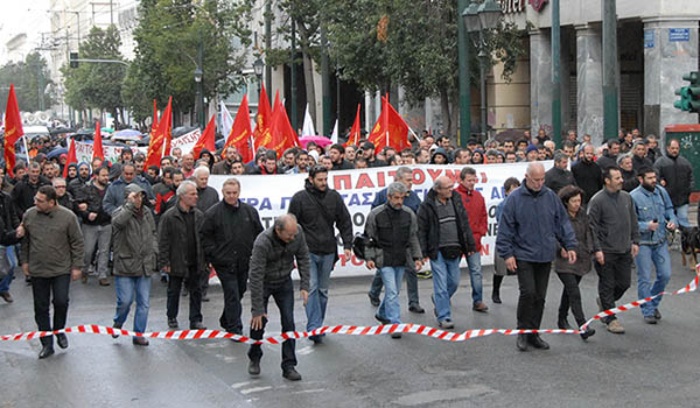 Workers and unemployed people who were demonstrating in the centre of Athens against unemployment (6/3/2014) faced the provocative attack of the police forces.
The protesters gathered in the centre of Athens and marched to the Ministry of Labour. They found the doors closed, even though a meeting had been scheduled, as the entire political leadership of the ministry was absent. The unions demanded that the minister must come in order to carry out the meeting. As this did not happen they announced that they would go to the Ministry of Finance to meet a representative of the government.
Nevertheless heavy police forces and police vans had blocked the road in order to prevent the protesters and later on they attacked them with batons and tear gas so that they would not disturb the visit of the German President to Greece, given that the Greek government had provocatively banned demonstrations during his visit.
Even the MEP of the KKE, Babis Angourakis, and photographers and journalists did not escape the provocative assault.
The demonstrators confronted in a militant way the assault they were on the receiving end of and with slogans denounced the state violence which is used against the people and in favour of the monopolies. They decided to meet again at the demonstration on Friday 7/3 for International Women's Day. Babis Angourakis, MEP of the KKE, denounced the authoritarianism of the government and the provocative behaviour of the ministers against the demonstrators, as the request for a meeting had been rejected both by the Ministry of Labour and by the Ministry of Finance. He called on the people to continue their struggles, stressing that the KKE would be at their side. Dozens of trade unions issued statements condemning the stance of the government against the mobilization of the class-oriented trade unions which were demanding that measures be taken regarding unemployment. They also condemned the police attack, which used tear gas and batons against the demonstrators.