KKE – KNE
Protest at the Polish Embassy in Athens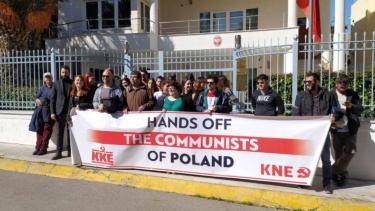 The KKE and the KNE staged a protest on Tuesday, March 3, the day the trial of the executives of the CP of Poland and the editorial board of its magazine, Brzask, resumed.
Delegation consisting of Lefteris Nikolaou-Alavanos, member of the  International Relations Section of the CC of KKE and MEP, and Paschalis Kagiannis, member of the CC of KNE, met with the Embassy's Political Affairs Adviser, Yolanda Voichik Nietzelska, to whom they issued a statement of protest and demanded that the Polish authorities immediately halt the prosecution of the Polish communists.
The KKE and KNE delegation underlined the unacceptable anticommunist campaign to equate communism with nazism, which is an insult to the tens of millions of victims of nazism and the thousands of anti-fascists who fought against fascism. It was argued that the accusations against the executives of the CP of Poland, collapsed and where acquitted in February 2019, and demanded that the prosecutions be stopped so that the CP Poland could participate unhindered in the country's social and political life. The KKE and the KNE delegation expressed their solidarity with the Polish Communists and the members of the editorial board of Brzask Magazine and pledged that they will continue their fight against the anticommunist campaign in  Poland, together with the Communist and Workers' Parties around the world.
05.03.2020