COMMUNIQUE OF THE PRESS OFFICE
Regarding the attack of the police forces against workers on strike in the amazon isntallations of Madrid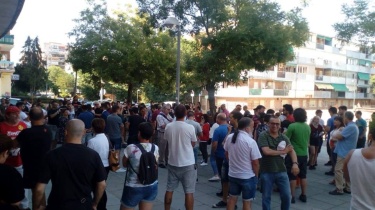 The Communist Party of Greece (ΚΚΕ) strongly condemns the police violence, the repression and detentions at the expense of workers on strike of the Amazon installations in Madrid (San Fernando de Henares neighborhood).
The police forces attacked brutally and without being provoked against the workers, that had formed a picket-line defending their strike that will culminate on July 18th, struggling for decent working conditions and pay raises.
The KKE expresses its solidarity with the workers on strike and with the detained, expresses its support to c. Hugo Carrasco, cadre of the Communist Party of the Peoples of Spain (PCPE), that is among the detained and is facing various charges. The KKE demands all the unsubstantiated charges at the expense of the workers on strike to be dropped immediately.
Once again the anti-worker character of the bourgeois state is demonstrated, as well as the anti-people politics of the social-democrat government of Pedro Sanchez in Spain; government that is using repression to serve the monopoly interests, attacking against the working-class' struggles.
This development refutes all those, the SYRIZA-ANEL government among them, that rushed to salute the formation of the new Spanish government as a supposedly positive development in favor of the people and the workers of Spain.
Solidarity with the workers on strike of Amazon Madrid!
Hands-off the Communists!
18/7/2018                    THE PRESS OFFICE OF THE CC OF THE KKE