Response of the KKE and KNE to the vandalism of the monument of the Soviet soldier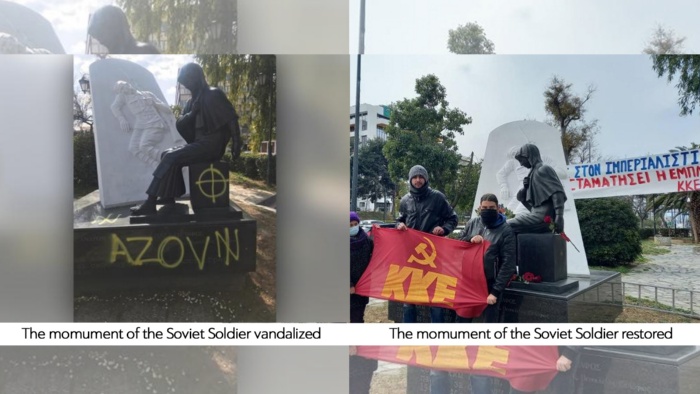 On 20/3, the Base Organizations of the KKE and KNE in Kallithea (a region in Athens) made an intervention–response to the vandalism of the monument of the Soviet soldier in Kallithea.
From early morning, the forces of the KKE and KNE were present in the region, they decorated the monument with flowers, hung banners condemning the imperialist war in Ukraine, and handed the statement of the Sectoral Organization of Southern Athens and the Party Organizations of Kallithea to passers-by.
As the KKE and KNE Organizations underscore, the despicable act of the fascists, who sullied the monument with the symbols of the fascist "Azov Batallion", cannot erase the achievements of socialism in the USSR, the fact that only then did the people live in peace and brotherhood, and the defeat of fascism–Nazism with the sacrifice of 20 million people of the USSR who fell dead on the battlefields. We make it clear to them that we will confront them!
30 years after the overthrow of socialism, which many celebrated, the imperialist war linked to the general US–EU–China–Russia confrontation over supremacy in the imperialist system, once again turns the peoples of the countries involved into victims; and not only them since the economic and geopolitical repercussions of this conflict affect peoples around the world.
We will not choose a camp between thieves. Hope lies in the peoples' struggle!
21.03.2022