Statement of the Press Office of the CC of the KKE on the developments in Kosovo
Unacceptable reinforcement of NATO's presence - Greek forces must withdraw immediately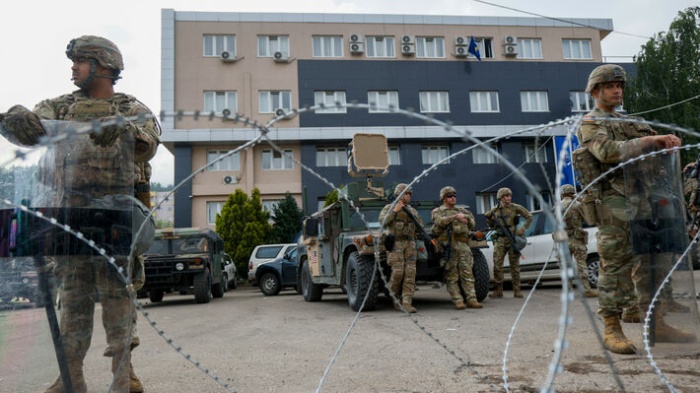 Nowadays, there is a sharpening conflict of imperialist interests in various regions of the world, including the Balkans, where the situation formed by Euro-Atlantic intervention, NATO bombings and the break-up of Yugoslavia in the 1990s remains a festering wound.
Today, almost 30 years later, we are witnessing the escalating tension in Serbia–Kosovo  relations, which is fraught with dangerous developments for the peoples and is a continuation of the general border changes in the Balkans and the creation of the protectorate of Kosovo.
The ongoing imperialist war in Ukraine, as well as the promotion of the so-called "Euro-Atlantic integration" in the Western Balkans, which expresses the competition of the bourgeois classes and the confrontation of the USA, NATO and the EU with Russia and China for the expansion of each side's interests in the Balkan region, are factors that are building up the tension.
Both the Kosovo authorities, who have violated their obligations, and the Serbian authorities, who have been following the path of negotiations with the Euro-Atlantic imperialists, are responsible for the further aggravation of the situation.
It is once again demonstrated in practice that the USA, NATO and the EU bear enormous responsibility for the situation and that no one should attach importance to the security guarantees they are generously providing. The further reinforcement of NATO forces in Kosovo, under the pretext of the incidents, is unacceptable and in no way contributes to resolving the issue. The KKE condemns in the strongest terms the use of repressive mechanisms and violence against the demonstrators.
The policy of involvement in the imperialist plans pursued by the New Democracy government, together with PASOK and SYRIZA, poses major risks to our people. The struggle for disengagement from imperialist plans must be intensified, the Greek military forces must withdraw from the NATO force based in Kosovo and from any other imperialist mission.
The solution for the peoples of the Balkans does not lie in nationalism, the dismemberment of countries and the formation of foreign protectorates, as is the case of Kosovo and Bosnia. It lies in respect for borders, the rights of minorities and the joint class struggle against the bourgeoisie and all kinds of imperialist powers for the elimination of the causes that shed the peoples' blood and are rooted in the profits of capital.
ATHENS 06/06/2023
THE PRESS OFFICE OF THE CC OF THE KKE