Statement of the Press Office of the CC of the KKE on the release of the Cuban patriots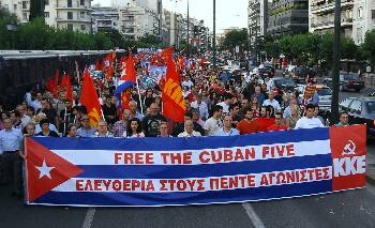 The KKE salutes the release of the Cuban Patriots who were imprisoned in US prisons on the basis on unsubstantiated and fabricated accusations. 
Their return to Cuba fulfils the demand of the communist and labour movement in our country which struggled for this in coordination with the movements of dozens of countries around the world.
The KKE, which has taken part in the movement for the release of the Cuban patriots for 16 years, salutes the thousands of militants who all these years have joined the multi-faceted events of the people's movement for this just cause. However, we have no illusions and we should not stop being vigilant. 
Imperialism has never become more human. In its tactics it uses both the carrot and the stick. 
We continue the struggle both against the US blockade against Cuba as well against the Common Position adopted by the EU against Cuba. 
We express our solidarity with the people and the Communist Party of Cuba that will soon celebrate the 56th anniversary of the Cuban Revolution against all kinds of imperialist pressure, intervention and the various subversive plans. 
Athens 18/12/2014
THE PRESS OFFICE OF THE CC OF THE KKE