Statement to condemn the persecution in Turkey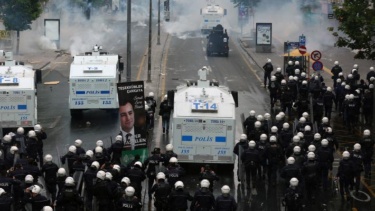 As is well-known, the President of Turkey, T.Erdogan, is filing a great number of lawsuits against his political opponents. Today over 2,000 of Erdogan's lawsuits are pending, including lawsuits against dozens of members of the Communist Party in Turkey. Specifically, at the end of March, lawsuits were filed for slander and libel against 50 members of the CP, Turkey, including the GS of the CC, Kemal Okuyan, other members of the CC and youth cadres of the party.
It is a clear attempt by the Turkish government and plutocracy to muzzle the leading activity of the CP and restrict its intervention amongst the people. On its part, the CP has made it clear that it is not going to stop exposing the enemies of the people.
A campaign is being organized in Greece to collect signatures to denounce the persecution in Turkey. The text, which up to now has been signed by the entire parliamentary group of the KKE, the KKE's delegation to the European Parliament, dozens of trade unionists, mayors and other figures from local government, is as follows:
"We who sign this text denounce the authoritarian policies of the Turkish government and President T. Erdogan, who have unleashed a wave of law suits and trials against those that criticize the anti-people policies of the government of the AKP, Erdogan's party, the intervention of Turkey in the war in Syria, against those that struggle for social and democratic rights and for the just cause of the Turkish people. We express our solidarity with those being persecuted and demand the end of every kind of persecution and attack on political activity, democratic freedoms and rights in Turkey."
13.04.2016