The KKE at the side of the workers on strike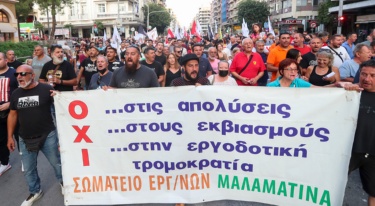 On 8/9, a delegation of the KKE was once again at the side of the striking workers of "Malamatina", a large wine production company, who continue their multi-day struggle. The delegation of the KKE conveyed the message that the KKE will continue to support their just struggle with all its might.
The strikers demand the revocation of 15 dismissals and the signing of a Collective Labour Agreement.
The cadres of the KKE held a discussion with the strikers and highlighted that their just struggle must be embraced and become a centre of coordination and solidarity at a local, sectoral, and national level.
G. Protoulis, member of the Political Bureau of the CC of the KKE, made a statement after the meeting. Among other things, he noted that "The struggle of the workers in 'Malamatina' is a just struggle; it must be justified, the workers must win, the dismissed workers must return to work. It is a struggle that must be supported by the entire working class, because the issues faced by the workers at 'Malamatina' are issues faced by the entire working class.
It is a struggle that can set an example, a struggle that takes the baton from the dozens of mobilizations that were held in the past months and years. That is the way out, that is the path that workers must continue on."
Giannis Frangidis, president of the Workers' Union in the enterprise, expressed the thanks of the workers of "Malamatina" to the KKE, which has expressed its solidarity with their struggle from the very first moment.
09.09.2022