The KKE delivered a letter of protest to the embassy of Venezuela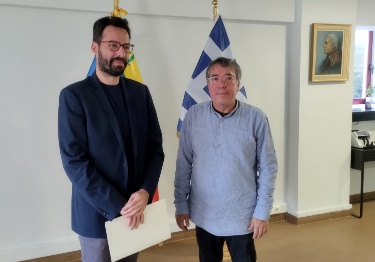 On Friday 26/5, a delegation of the KKE headed by Lefteris Nikolaou-Alavanos, MEP of the KKE, and Aris Evangelidis, member of the International Relations Section of the KKE, visited the Venezuelan Embassy in Athens and met with Head of Mission, Freddy Jesús Fernández Torres, to deliver a letter of protest to the Venezuelan government condemning the intensifying anti-communist attack against the CP of Venezuela.
The letter of the International Relations Section of the CC of the KKE reads as follows:
"The Communist Party of Greece (KKE) has been following developments in Venezuela with great attention and firmly expresses its solidarity with the Venezuelan people. It consistently denounces the sanctions and imperialist aggression, and has unequivocally condemned the attempted coup by the imperialists' puppet, Juan Guaidó.
At the same time, in recent months we have been watching with concern that a slanderous and anti-communist campaign is being launched by the leadership of the ruling PSUV against the Communist Party of Venezuela (PCV). All signs indicate that this process will escalate in the coming months. An unacceptable judicial intervention in the internal affairs of the PCV is being planned, with the aim of even banning it.
With this letter, we request that you convey our strong protest to the Venezuelan government and the President, Nicolás Maduro, as well as our demand that all attempts to criminalize and ban the PCV and its elected leadership at its recent 16th Congress be stopped immediately.
The KKE, joining dozens of other Communist and Workers' Parties internationally, expresses its internationalist solidarity with the PCV and declares that it will oppose any kind of anti-communist persecution with all its might."
Together with the letter of protest, the KKE delegation handed over in writing the Joint Statement of Communist and Workers' Parties, so far signed by 53 parties from all over the world.
26.05.2023