PRESS OFFICE OF THE CC OF THE KKE
The Palestinian people have the right to defend their rights and need greater popular support and solidarity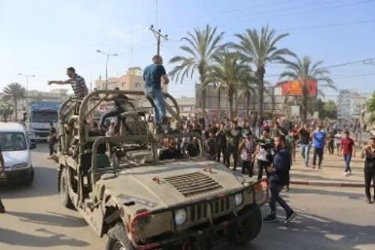 The Press Office of the CC of the KKE issued the following statement on the developments in Palestine and Israel:
"The KKE condemns the years-long occupation of the Israeli state and the crimes it systematically commits against the Palestinian people —with the support of the USA, the EU and their allies— which have resulted in the death of thousands of Palestinians, thousands of crippled and imprisoned people, destroyed towns and villages and settlements on Palestinian land.
Today's events have not come as a bolt from the blue. Those who seek their causes should face the truth, which shows that the Israeli army's attacks are escalating every day,  resulting in the death of dozens of Palestinians, including elderly people and young children. These are crimes that have recently intensified and have been repeatedly denounced by the KKE. The aggression of the state of Israel is ultimately directed against the Israeli people themselves.
The New Democracy government and SYRIZA, which support the occupying forces with their unacceptable statements, are fully exposed, because since 2015 they turn a blind eye and refuse to recognize the Palestinian state in accordance with the relevant unanimous decision of the Greek parliament.
The Palestinian people have the right to defend their rights and need greater popular support and solidarity to continue their struggle to end the Israeli occupation, for an independent state on the 1967 borders, with East Jerusalem as its capital."
09.10.2023