Communist Party of Greece
The USA "adds fuel to the fire" to "burn" the Palestinian State with its capital in East Jerusalem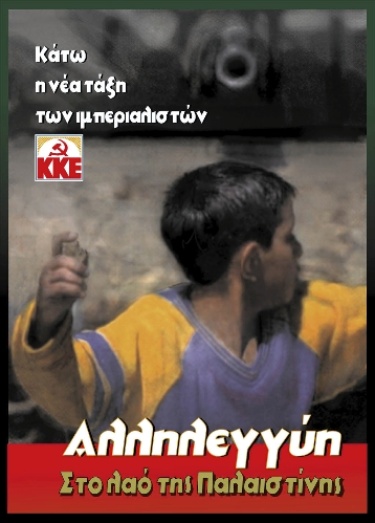 In its statement, the Press Bureau of the CC of KKE notes:
"The USA "adds fuel to the fire" to "burn" the Palestinian State with its capital in East Jerusalem
The decision of the USA to recognize Jerusalem as Israel's capital shows the cynicism with which American imperialism actively participates in the crime that is being committed against the people of Palestine by Israel and its allies, primarily the USA, as well as the EU. The later, not only deepens constantly its relations with Israel, but also equates the perpetrator with the victim, proclaiming as "terrorism" the just struggle of the people of Palestine.
A result of this long-time policy is the continuation of the occupation of Palestine, the violence exercised by the state of Israel against the Palestinian people, the murders, the thousands political prisoners, the wall, the settlements, in a few words the torture of a whole people.
Now, with their new decision the USA "adds fuel to the fire" which seeks to "burn" the solution of founding and recognition of a palestinian state with east Jerusalem as its capital, next to Israel. Moreover, such as act is definitely related with the broader developments in the region of the Middle East and the Persian Gulf, in which the USA are planning and promote military conflicts, border changes, within the framework of the so-called "Greater Middle East" plan, aiming to control the energy resources and the market shares, the transportroutes for commodities.
The SYRIZA-ANEL government has its own heavy responsibilities in this crime, not only because it systematically exonerates and embellishes american imperialism, but also because it develops deeper relations with Israel, even giving them a character of strategic importance thus involving the country deeper in the imperialist antagonisms. Furthermore, it is responsible for not immediately recognizing the Palestinian state through the implementation of the relevant decision of the Parliament on December 2015, something which the parliamentary group of the KKE recently submitted as a question to the Minister of Foreign Affairs.
Once again, the KKE expresses its solidarity to the just struggle of the people of Palestine and condemns in the most decisive way the acts of the american imperialists and their allies."
07.12.2017