The Ukrainian authorities continue to unacceptable target cadres of the KKE for their political activity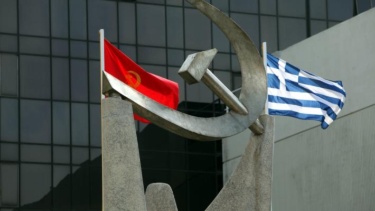 On 16 May 2017, the President of Ukraine, Piotr, Poroshenko, who ascended to the Presidency through the overthrow of his predecessor by a coup, and with the active support of fascist forces, ratified the list of sanctions at the expense of over 1000 people from dozens of countries from all over the world, including three cadres of the KKE. Specifically: Sotiris Zarianopoulos, MEP of the KKE, Giorgos Lamproulis, MP of the KKE and Deputy Speaker of the Greek Parliament, and Giorgos Magganas, cadre of the KKE.
The cadres of the KKE are being targeted for their political activity, because they visited the war-stricken region of Donbass in November 2014.
The current Ukrainian authorities continue to be in the grip of a nationalist psychosis, to massacre the people of their country in the Donbass region, to vandalize anti-fascist and Soviet monuments, to outlaw political parties, the CP of Ukraine amongst them, to historically rehabilitated and justify Ukrainian Nazis, and to promote their country's accession to the imperialist unions of NATO and the EU, causing with these actions of theirs the "disintegration" of their own country.
The unacceptable decision of the President of Ukraine against the cadres of the KKE is one more addition to this disgusting state of affairs, which the Prime Minister of Greece, A. Tsipras, rushed to support last February, satisfying the business and Euro-Atlantic interests.
The SYRIZA-ANEL government bears enormous responsibilities for the support it provides to the reactionary Kiev government, at a time when this government, amongst other things, is targeting cadres of the KKE.
16/5/2017           Press Office of the CC of the KKE