The farmers' mobilizations are intensifying all over the country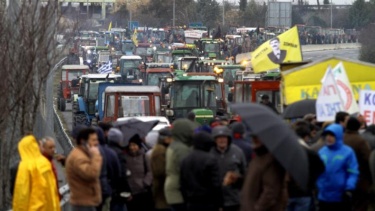 Thousands of farmers, for one more year, have set up roadblocks on many of the main roads from one end of the country to the other. The small and medium farmers are fighting against the anti-people political line of the government and the Common Agricultural Policy (CAP) of the EU, which lead to the acceleration of the concentration of land, production and the retail of agricultural products into the hands of a small number of big farmers-capitalists.
The epicentre and the reference point of the struggle, which is coordinated by the Nationwide Committee of the Roadblocks, is once again this year the powerful roadblock at Nikaia set up by the farmers of Thessaly with hundreds of tractors on the central national highway just outside the town of Larisa.
Dozens of trade union organizations and mass organizations in Greece have expressed their solidarity with and support for the struggle of the small and medium farmers. The Executive Secretariat of PAME is calling on the workers to support in a mass way the farmers' roadblocks and farmers' mobilizations.
The GS of the CC of the KKE, Dimitris Koutsoumpas, met and discussed with the small and medium farmers of Arta, who have set up a roadblock on the Ionian highway, on the morning of Saturday 28/1 and expressed the solidarity of the KKE with their struggle.