The governmental authoritarianism will not pass!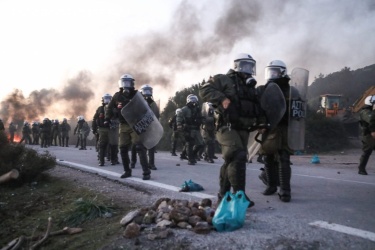 The ND government has taken a series of actions to boost state and police violence as it promotes the new blow on the public security system. The government mobilized the police forces in order to hold the congress of the country's General Confederation of Trade Unions, which was held in a state of great fraud. In addition, repressive forces stormed the institution building at the Athens University of Economics and Business, spraying chemicals and throwing stun grenades inside the University campus, while classes were being held and hundreds of students were inside. In its denouncement, KNE notes that these events are "yet another escalation of the repression that is added to all those of the previous days" and stresses that the mass student movement can respond to government authoritarianism.
However, the "tip of the iceberg" of government authoritarianism and violence was the deployment of strong police forces to impose the construction of "closed centers" on the islands of the North Aegean, namely prisons, where refugees and immigrants arriving in Greece will be detained. Riot police forces clashed with islanders in Lesvos, Chios and Samos, who are are opposed to prison construction and demanding the extrication of the immigrants and refugees from the islands.
The GS of the CC of KKE, Dimitris Koutsoumbas made a statement on the  landing of police forces in the northern Aegean islands. D. Koutsouba's statement is as follows:
"Instead of sending ships to the Aegean islands to extricate thousands of refugees and immigrants, as our islanders rightly claim, the government organized a night landing and barbaric invasion of Lesvos, Chios, against the islanders, that are struggling to keep their islands from becoming EU prisons.
From 2 in the morning the people of Lesvos and Chios face the savagery of the riot police. From the harbor to the villages, thousands of islanders who took to the streets are attacked with chemicals, tear gas and water cannons.
The repressive forces are currently operating and behaving against the heroic village of Madamados and other villages of Lesvos, in Vrontado, Chios, as occupying forces.
The responsibilities of the government are enormous.
We demand:
Immediately withdraw the repressive forces from the islands. All righteous demands of the islanders to be accepted here and now.
All people must condemn the governmental authoritarianism. In order to implement the EU - Turkey policy and agreement is committing a crime against the islanders. "
26/2/2020