Statement of the Press Office of the KKE
The intervention plan of the USA–EU cannot hide behind by the unacceptable forced landing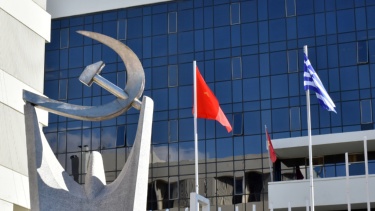 The Press Office of the CC of the KKE issued a statement on the forced landing of an aircraft in Minsk and the intervention plans in Belarus, stressing the following:
"The plans of the USA and the EU to blatantly intervene into the internal affairs of Belarus cannot hide behind the unacceptable forced landing of a Ryanair flight in Minsk. It is an affront that these forces pretend to be "sensitive" to this particular development, as they have formed an institutional framework, which, in the name of "combating terrorism", provides for such practices that have been repeatedly used in the past, while they are now following the hypocritical tactic of double standards to promote their own interests.
It is the same old story of "human rights", which was also used in the past as a pretext for dozens of imperialist interventions and wars. In fact, they do not hesitate to support even Neo-Nazi organizations that they call "activists", as shown in the case of Ukraine. Moreover, a coup attempt in Belarus was recently revealed, with the involvement of military forces that would even reach to the point of assassinating the elected President, reminding us of interventions in Latin American countries.
The ND government is not only participating but also playing a leading part in this plan, adopting all the unacceptable pretexts, with the assistance of SYRIZA and KINAL. The people of Belarus are the only ones who have the right to choose their own future and define the political developments in their country, away from foreign interventions that serve other purposes."
27.05.2021