GIORGOS MARINOS
The involvement of Greece in the dangerous US, NATO, and EU plans throws the people to the wolves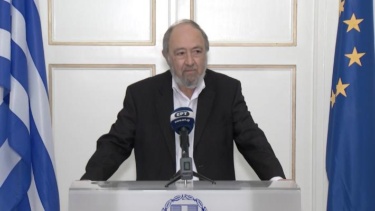 "The KKE's concerns about the developments in the region and the general geopolitical developments have been confirmed" stated Giorgos Marinos, member of the PB of the CC of the KKE and MP after a meeting with the Foreign Minister, Nikos Dendias.
Nikos Dendias met with representatives of political parties and informed them about his latest trip to Ukraine as well as the developments in Eastern Mediterranean and the Balkans.
"The political involvement of Greece in the dangerous US, NATO, and EU plans throws our country and our people to the wolves", noted G. Marinos, adding that "this is of particular importance today that we see that competition between the USA–NATO–EU and Russia on the Ukraine front is sharpening".
G. Marinos stated that "in these circumstances, taking into consideration that this confrontation of the Euro-atlantic bloc with Russia can have unpredictable consequences, the KKE calls on our people to strengthen their struggle:

So that the despicable Greece–USA agreement on US bases is not ratified.
So that the military bases in Souda, Alexandroupoli, Stefanovikio, and Larissa are immediately closed.
For the return home of all Greek Armed Forces participating in imperialist missions abroad.
So that our country's participation in NATO military exercises, especially those aimed at encircling Russia stops immediately."
02.02.2022