General nationwide strike on 9 November 2022
The workers' impressive participation sends a message of uprising in every workplace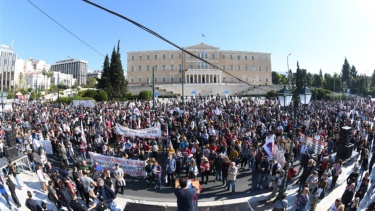 "Today's strike is a message of escalation of the struggle. It is a message of uprising in every workplace, sector, and region. Now it is necessary for the working people to become the protagonists, to come to the forefront for life and work with rights", stressed the All Workers' Militant Front (PAME) in its message concerning the general nationwide strike, which took place in Greece on 9 November 2022.
In all cities around Greece, tens of thousands of workers in the public and private sector, self-employed and small tradesmen, university and school students, women, and pensioners participated in the mass strike rallies organized by the class-oriented trade unions.
From early morning, strike picket lines were organized outside workplaces of many industrial sectors to ensure that the strike was safeguarded. 
The demonstrators demanded substantial increases in wages and pensions, collective labour agreements guaranteeing permanent work with rights, as well as affordable prices in electricity and basic goods for the people, with the abolition of the burdensome anti-people's taxes.
The class-oriented trade unions, which are rallied in PAME, called for organization and struggle for the overthrow of the anti-people's policy that gives rise to poverty, hunger, exploitation, and wars; that makes the people freeze to serve the profits of business groups.
School and university students also had a strong presence in the mass strike rallies. A resolution of student associations was adopted in solidarity with a young university student–conscript who was punished for denouncing the war and Greece's involvement in it. The resolution salutes the attitude of this young man and notes that "every day the majority of the people expresses its opposition to the war between NATO and Russia in Ukraine in a multifaceted way and demands that Greece's participation in the criminal plans of NATO, the USA, and the EU be stopped".
D. KOUTSOUMBAS: The mass nationwide strike sends a message that the Greek people will not show tolerance to the anti-people's policy
The mass nationwide general strike was attended by the General Secretary of the CC of the KKE, Dimitris Koutsoumbas, who stressed that "Today's mass nationwide strike sends a message across Greece and Europe that the Greek people and their movement will not become accomplices and show tolerance to the anti-people's policy of the ruling and other parties of the big capital, to energy poverty and EU policies, to the decay of the capitalist system."
10.11.2022