DIMITRIS KOUTSOUMPAS
We are in the throes of serious developments, fierce competitions and conflicts in the region, which pose risks to the people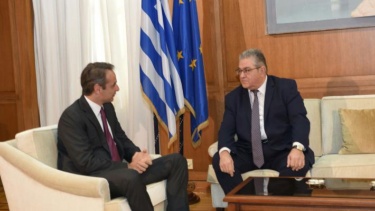 The GS of the CC of the KKE, Dimitris Koutsoumpas, met on Monday 31/01 with Prime Minister K. Mitsotakis, in the framework of the Prime Minister's contacts with all political leaders of the parliamentary parties.
After the meeting, D. Koutsoumpas stated among other things:
"Following the briefing by the Prime Minister, I would like to tell you that we are really in the throes of serious developments, fierce competitions, contradictions and conflicts in the region. This makes us particularly anxious. We have expressed the KKE's opposition to the new Greece-US agreement, which expands US and NATO bases in Greece and engages our country in new adventurisms, in war and imperialist plans in the wider region.
Of course, we did not expect anything different from the Government and the Prime Minister. Their view of Greece's stance towards the Americans and NATO, towards international alliances, is firm and timeless. Unfortunately, however, we see and follow other parties on the political scene, such as the current opposition, which used to have other positions, but as a government actually prepared this unacceptable US-NATO agreement.
We expressed our opposition to the positions and views of the Greek Government and Mr. Mitsotakis during his meeting with Trump on the murderous action against another country's official. It was a criminal act. It had to be stated clearly to the US and, indeed, not about the specific person - as you know we do not defend the Iranian regime, we are completely opposed to how he behaves in his country and the region - but this is a violation of sovereign rights, apart from the fact of the murderous action against an official.
From this point of view, we believe that we are in the throes of developments that concern us that the people will certainly pay for, the Greek people will pay for.
At the same time, we expressed our concern at the continuing challenge of Greece's sovereign rights by the Turkish bourgeoisie, Erdoğan, the Turkish government, with all these EEZ delimitations with Libya and, of course, his unacceptable tactic to even challenge international agreements that have defined borders in the region and the particular states, in the Aegean, in the Balkans and the Eastern Mediterranean for decades. And of course, we have expressed our disagreement with the action to the International Court of Justice in the Hague, which Turkey certainly does not accept. We also raised the issue of the content of the agreement, which concerns us, if the two parts eventually reach such an agreement."
15.01.2020